The ladies on Hairlista have contributed to my product junkiness. lol While browsing the comments on the Deep Conditioning challenge page a couple of weeks ago a few of the ladies were talking about shampoo bars from a company called Bobeam on Etsy. I tried to find the page on Etsy but couldn't find it so I left it alone. I saw a video that one of the ladies did talking about the shampoo bars. The one that caught my eye was the Cocoa & Rhassoul Clay Shampoo Bar. Bobeam specializes in "shampoo bars made with all naturals ingredients and they can be used on all hair types, including locs. The shampoo bars contain no SLS or SLES, detergents, surfactants, or sulfates." Please check out her Etsy store. http://www.etsy.com/shop/BobeamProducts She a really nice variety of shampoo bars.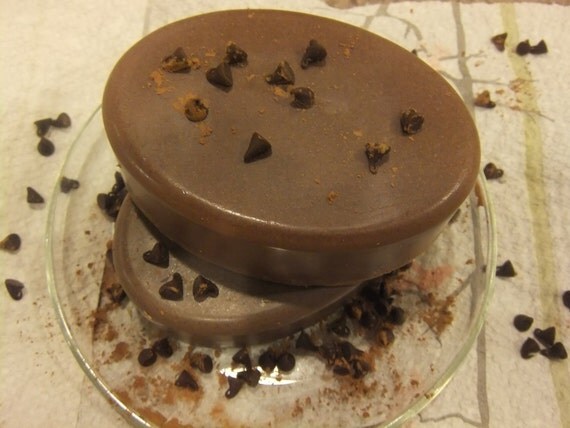 When I finally found the page I didn't see the C&RCB. So this past Wednesday, I went back to the page and there it was. I had to put in a order for 2 bars and I received my shipment confirmation the same day. Although this a shampoo bar it also be use on your body. I will be using it both ways. Here is the info from the website;
About Cocoa & Rhassoul Clay Bars
These mouth-watering 'scented' chocolate ( they are made with actual chocolate!) and Rhassoul clay bars are great treats for you hair and body. They will give your hair a fresh, clean start removing build-up and toxins while tantalizing your senses with the aroma of rich, deep chocolate.
Benefits of the ingredients:
Cocoa Butter - Processed from cocoa beans - high in Vitamin E, softens and hydrates.
Cocoa Powder - Processed from cocoa beans. Contains minerals such as potassium, calcium, iron, and magnesium. Antioxidant and humectant - retains moisture.
Rhassoul Clay - Contains a high percentage of silica, magnesium, potassium and calcium. It reduce dryness and flakiness, removes surface oil and dead skin, and is a great deep conditioner.
Natural Chocolate Scent
Ingredients: Water, Gum Arabic, Natural Favors, Citric Acid, Sodium Benzoate, Potassium Sorbate.
I remember reading on a few of the hair blogs and seeing on a few videos that some clays aren't that great for relaxed hair. I emailed the owner, LaQuita, about this. She said that the bar is fine for relaxed. She let me know that she has relaxed and transitioning customers who love her products and that she tested out some of the products on her niece's relaxed hair. That put my mind at ease. She also recommended that I use it one to two times a month when I clarify. This product came right on time because I have been wanting to find something natural to clarify my hair with. I will use this on my shampoo wash day next week since I haven't clarified my hair since January. An initial reaction post will come shortly after the first use.